Finance details:
*Weekly price reflects 5-year finance option. The total value of the purchase must be over £1,000 (ex.VAT) to qualify for finance. Call today on 01527 883 580 to begin your application.
CALL NOW TO APPLY | 01527 883 580
APPLY FOR FINANCE ONLINE
Introducing the Atlas TC320MAX Tyre Changer – Minimum Effort, Maximum Performance!
The TC320MAX is a robust easy to use tyre changer, capable of handling up to 26" wheels. Supplied with double assist arms enabling you to easily cope with run-flat and low profile tyres.
Need a machine that saves you time and effort? This machine has a pneumatically controlled rear tilting column that saves you time setting up.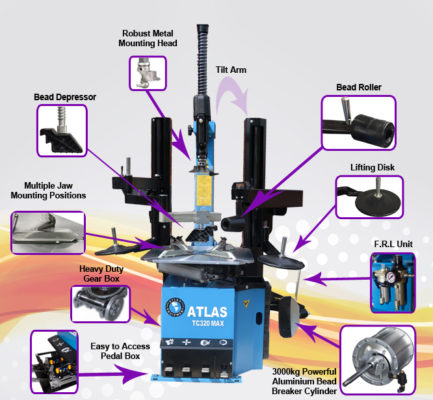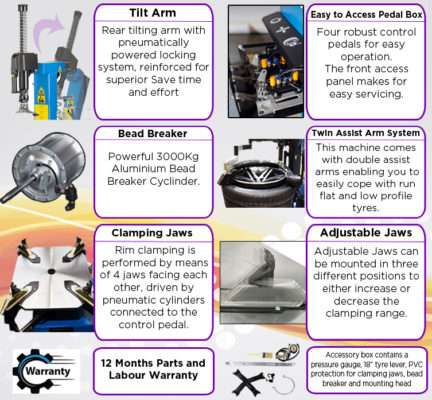 About the Atlas TC320MAX Tyre Changer
Fully automatic tyre machine capable of changing tyres up to 26".
Front access panel for easy servicing
Pneumatically controlled rear tilting column
Double assist arms enabling you to easily cope with run-flat and low profile tyres
Suitable for most passenger and light commercial wheels
Included with the Atlas TC320 Tyre Changer with Assist Arm:
Operation manual
Routine maintenance guide
Pre-filter and oil lubricator
18″ tyre lever
Alloy wheel protection kit including:
Plastic inserts for a metal mounting head, plastic cover for the tyre lever, set of 4 clamping jaw covers and plastic bead breaker cover also included.
Atlas Equipment Warranty Options
We are pleased to offer all Atlas Equipment customers a standard 12 months parts and labour warranty inclusive of their purchase. This comes as standard and no action is required.
Warranty Extension
Many choose Atlas Equipment because of the option to extend the warranty for an additional 24 months at a cost of only £499. This is included as part of the purchase cost and can be paid for upfront or financed with the machine.
This brings you peace of mind for the next two years that your equipment is covered and your business is not at threat from any long term lost revenue due to machine issues.
To find out more about Atlas Equipment call our experts now on 01527 883 580. Our team will be happy to help find the right product and warranty combination for you.