Our TPMS service kits are the perfect accessory for any workshop mishaps. A box of 10 service kits, with each including: 1 Nut, 1 Rubber Grommet, 1 Metal Washer, 1 Valve Cap and 1 Valve Core.
Compatible with our Replacement Clamp-In TPMS Valves for VDO TG1C.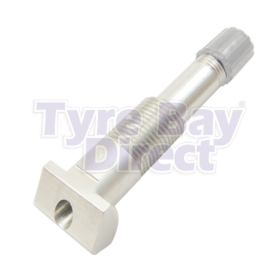 Product does not qualify for Saturday delivery.
Nut Torque: 8.0Nm
Barcode: 6924478961394
Comparative Part Numbers: 6-139B, 72-20-515, 5629308, 21113, 5058, 7000K, 5628532, 591316, 92-3311
Compatible With Original TPMS Sensors for:
Compatible with (click to expand):
Abarth 124 Spider: 2016 – December 2019
Alpina 3: January 2013 – December 2019
Alpina 3: January 2013 – December 2019
Alpina 4: March 2014 – December 2019
Alpina 4: March 2014 – December 2019
BMW 1 Series: March 2014 – December 2019
BMW 1 Series: March 2014 – December 2019
BMW 2 Series: January 2014 – December 2019
BMW 2 Series: January 2014 – December 2019
BMW 2 Series Active Tourer: January 2014 – June 2021
BMW 2 Series Active Tourer: January 2014 – June 2021
BMW 2 Series Gran Tourer: January 2014 – December 2019
BMW 2 Series Gran Tourer: January 2014 – December 2019
BMW 3 Series: March 2014 – December 2019
BMW 3 Series: March 2014 – December 2019
BMW 3 Series GT: March 2014 – January 2020
BMW 3 Series GT: March 2014 – January 2020
BMW 4 Cabrio: February 2014 – December 2019
BMW 4 Cabrio: February 2014 – December 2019
BMW 4 Series: March 2014 – December 2019
BMW 4 Series: March 2014 – December 2019
BMW 4 Series Gran Coupe: March 2014 – December 2019
BMW 4 Series Gran Coupe: March 2014 – December 2019
BMW M2 coupe: April 2016 – December 2019
BMW M2 coupe: April 2016 – December 2019
BMW M3: March 2014 – December 2019
BMW M3: March 2014 – December 2019
BMW M4: March 2014 – December 2019
BMW M4: March 2014 – December 2019
BMW X1: July 2015 – December 2021
BMW X1: July 2015 – December 2021
BMW X2: January 2016 – December 2022
BMW X2: January 2016 – December 2022
BMW X5: September 2013 – February 2019
BMW X5: September 2013 – February 2019
BMW X6: August 2014 – December 2018
BMW X6: August 2014 – December 2018
BMW i3: August 2013 – April 2020
BMW i3: August 2013 – April 2020
BMW i8: January 2014 – April 2020
BMW i8: January 2014 – April 2020
BMW 2 Cabrio: January 2015 – December 2019
BMW 2 Cabrio: January 2015 – December 2019
BMW 2 Coupe: January 2014 – December 2019
BMW 2 Coupe: January 2014 – December 2019
BMW 3 GT: February 2012 – December 2019
BMW 3 GT: February 2012 – December 2019
Fiat 124 Spider: January 2016 – December 2018
Mazda 2: May 2014 – December 2019
Mazda 3: July 2009 – March 2013
Mazda 3 4 Door: March 2009 – September 2013
Mazda 5: July 2010 – December 2017
Mazda 6: August 2007 – December 2020
Mazda 6 4 Door: December 2007 – November 2012
Mazda 6 Kombi: February 2008 – November 2012
Mazda 6 Kombi: December 2012 – December 2018
Mazda CX-5: November 2011 – December 2018
Mazda CX-7: June 2009 – December 2012
Mazda CX-9: March 2010 – December 2012
Mazda MX-5: March 2010 – December 2019
Mini 3 Door: March 2014 – December 2017
Mini 3 Door: March 2014 – December 2017
Mini 5-Door: December 2013 – June 2021
Mini 5-Door: December 2013 – June 2021
Mini Cabrio: March 2016 – July 2016
Mini Cabrio: March 2016 – July 2016
Mini Clubman: December 2013 – June 2022
Mini Clubman: December 2013 – June 2022
Mini Cooper: March 2014 – December 2018
Mini Cooper: March 2014 – December 2018
Mini Countryman: January 2017 – December 2018
Mini Countryman: January 2017 – December 2018
Mini Hatchback: November 2013 – December 2017
Mini Hatchback: November 2013 – December 2017
Mini One: December 2013 – June 2021
Mini One: December 2013 – June 2021
Mini Paceman: July 2018 – May 2025
Mini Paceman: July 2018 – May 2025
Renault Fluence: October 2009 – June 2014
Renault Fluence: July 2014 – December 2015
Renault Grand Scenic: June 2009 – June 2015
Renault Laguna: October 2007 – December 2014
Renault Laguna Coupe: January 2009 – June 2015
Renault Latitude: April 2014 – December 2015
Renault Megane: December 2008 – December 2013
Renault Megane: January 2014 – March 2015
Renault Scenic: August 2010 – May 2015
Renault Spider: March 2010 – December 2015
Renault Zoe: September 2012 – March 2019