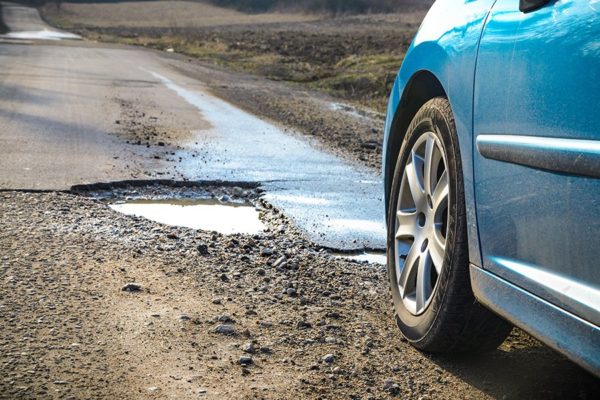 No matter where you're planning on driving to, it's inevitable that you'll come across at least one pothole in the road on your journey. In fact, 9% of the UK's road network is considered to be in general poor health and will likely require maintenance in the coming year.
How many times have you driven over a pothole in the past week? Once? Twice? Several times?
Brand new research by Citroen reveals that as many as 32% of road users have had their car damaged by a pothole – and, due to the severe state of some roads, the average repair bill for this type of damage is £141.95, with 11% of drivers having to fork out more than £251 for a pothole-related repair.
In a UK-wide survey of 2,000 drivers, almost a quarter of those whose vehicle had been damaged by a pothole had attempted to claim back the repair cost from their local council, costing local authorities almost £6 million in compensation in 2019/20 (data from The Asphalt Industry Alliance ALARM report).
So, with a high percentage of damage likely, it is important to know how important your wheel-based services can be…
Crucial tyre services!
As shown above, the numbers are very much against road users every time they take to the roads. Even if the damage caused isn't too severe, ensuring that your wheel alignment and balancing equipment is accurate and reliable is essential for improving a vehicle's safety and performance.
You will already know that the impact on a vehicle can be detrimental if wheel balancing or alignment is skipped during the tyre changing or fitting process. By offering wheel balancing and wheel alignment you'll provide your customers with a more comfortable ride and ensure they get more out of the life of their tyres, whilst also increasing fuel efficiency.
In some ways, the pandemic has been fruitful for many garages; taking advantage of the spare capacity to ensure their services are up to scratch and the team have received the right training to perform faultless wheel balancing and wheel alignment on every job. This isn't a reality for everyone, but it's never too soon to start this process.
Now that restrictions are being lifted, road use will again increase, and instances of pothole damage will soar as well. We predict that wheel balancing and wheel alignment services will be crucial for the remainder of 2021…