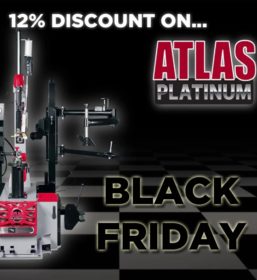 Black Friday starts on Platinum Thursday
THIS PROMOTION HAS NOW ENDED BUT PLEASE CALL OUR SALES TEAM FOR OUR LATEST OFFERS ON 01527 883 580
Make the most of this amazing and not-to-be repeated offer on Atlas Platinum equipment. Buy any Platinum equipment from Tyre Bay Direct this Thursday or Friday and get an immediate 12% discount against published prices.
The Atlas Platinum range of Tyre Changers and Wheel Balancers boast an extensive range of features beyond the standard tyre machines you may be used to working with.  Atlas Platinum brings greater efficiencies and capabilities to your business. These are top-quality Italian tyre machines designed with ease of use in mind. They employ the latest and best in Tyre Changing technology to ensure your tyre fitting business can get the job done!

Offer Details:
Offer open for Thursday 22nd Nov 2018 and Friday 23nd Nov 2018 ONLY
No extensions after 5.30 pm Friday 23nd Nov 2018
This is a ONE-TIME offer and will not be repeated
Offer applies to Atlas Platinum machines only
May not be combined with any other offers*
The tyre machines included in this offer are brand new machines and come with our full warranty, and after-sales service.
Call now to secure your Atlas Platinum tyre machine and these incredible not-to-be-repeated prices. 
CALL NOW FOR 12% OFF PLATINUM | 01527 883 580
*12% discount cannot be combined with 0% finance deal on Atlas Platinum Tyre Machines and Wheel Balancers