4 Things to Consider When Purchasing a Trolley Jack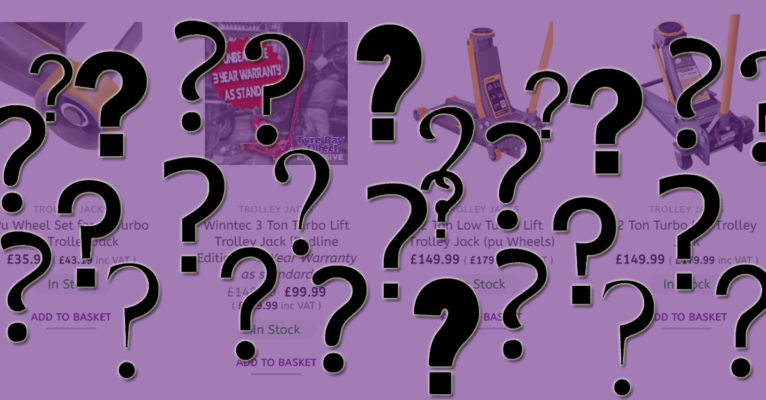 Have you been thinking about investing in your next trolley jack? Maybe you've seen a good deal online but how do you know it's the right product for you?
Alongside all garage lifting equipment, trolley jacks take pride and place in most fast-fit tyre shops as a more flexible / portable solution for mechanics.
Price
We'd all be lying if we didn't own up to price influencing our buying decisions. This approach often means getting a jack not up to the job and thus you'll spend more getting the right tool. A top tip can be to look for trolley jack special offers. This enables you to pick up a quality product that will stand the test of time in your garage without the usual outlay.
How it will be used
As with any piece of garage equipment, different trolley jacks have been specifically designed for certain vehicles and lifting requirements.
Fast fit tyre shop? A multipurpose trolley jack could be key as you will be dealing with a larger range of vehicles and requirements. Is the jack you're looking at going to cover any vehicle that comes into your garage or will you be risking turning business away?
Lifting capacity of your Trolley Jack
You'd think this goes without saying but many will go for a lower capacity to save and try to overexert their jack. This is extremely dangerous. Not only could you break your jack, costing you more, but you will put the safety of those around you and the vehicle at risk. Investing in a higher capacity jack probably just became a no brainer for some of you?
For those looking for a flexible lifting solution for standard class 4 passenger vehicle, the 2 ton trolley jack would be the most suitable – however, with bigger and heavier models of SUVs & 4x4s, the 3 ton trolley jack has become one of the most popular products throughout our portable lifting range.
Warranty
A sure-fire sign of quality from a manufacturer is a fair warranty, the idea being they are confident nothing will go wrong and will fix it if it does. Winntec is top of the class here.
Our Winntec products come with a standard 3-year warranty – a clear cut sign of the quality surrounding this brand.
Product Highlight: 3 Ton Trolley Jack
Winntec from SIP are one of our main suppliers of professional lifting equipment! Winntec's innovation and forward-thinking product development ensures high-quality products for every lifting need.
EXCLUSIVE REDLINE EDITION – brought to you exclusively by Tyre Bay Direct, our Winntec 3 Ton Turbo Lift Trolley Jack (Redline Edition) is the perfect lifting aid for your garage at an unbeatable price!
Even though this piece of equipment is used day in, day out, we are confident this low-profile trolley jack will deliver lifting excellence.
If you're still thinking 'why would I need a branded trolley jack when I can find one cheaper?', please re-read and realise the saving, safety and peace of mind a quality jack will bring!
Check out more on the warranty part in our previous blog.
The experts in portable lifting!
Do you need any advice on the right trolley jack solution for your garage? Call now and speak to Ant on 01527 883580 to discuss in more detail!