If you are looking to start your own business as a mobile tyre fitter or looking to upgrade your current van, we may have the solution for you.  With our customers ranging from large fast-fit centres to mobile tyre fitters, we offer the full range of machinery, tyre consumables and tools to cater for all your needs, whatever the size of your workshop!
A couple of months ago one of our existing customers, Darren, got in touch about a fleet of vans he was looking to upgrade. In June this year, Darren attended our High Performance Tyre Fitting Training Course where he had the opportunity to try out our range of Unite machinery. Able to see the quality, reliability and robustness of the equipment for himself, we were his first choice for the job.
Being a mobile tyre fitter himself, Darren was well aware of the potential problems that come with it. Perhaps the most frustrating issue is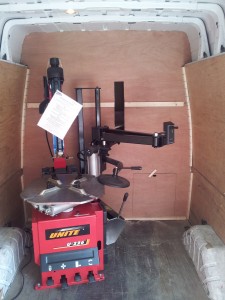 only having room for a smaller, semi automatic tyre changer which not being designed to cope with low profile or run flat tyres can result in having to turn crucial customers away. Larger, fully automatic machines are usually over looked for a mobile van because of their rear tilting column and wide assist arms taking up precious working space. However with precise measurements and a well thought out design we were able to install the Unite U226, a 24″ fully automatic tyre changer complete with assist arm, which is fully capable of changing low profile and run flat tyres.
Another common problem for mobile tyre fitters is the lack of storage space for tools, consumables and especially for tyres. Many mobile tyre fitters will be familiar with doubling up their working space as their storage space meaning all tyres are removed from the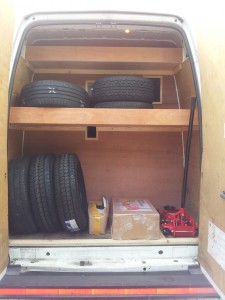 van before any work is carried out, and then put back before moving onto the next job. To overcome this time consuming and frankly annoying setback we created a separate storage compartment, accessible from the back of the van, which is perfect for storing tyres out of the way. We added several storage compartments for tools boxes and consumables as well as a work bench which can be folded away to create even more work space.
Alongside the fully automatic tyre changer stands a compact 24″ hand spin wheel balancer, a 100 litre petrol compressor and inverter system, which is much more economical that a generator, as well as a full range of consumables and tools. The Unite U108 wheel balancers is the perfect solution for a mobile tyre fitting van being capable of coping with the same sized wheels as the larger balancers yet only taking up half the space!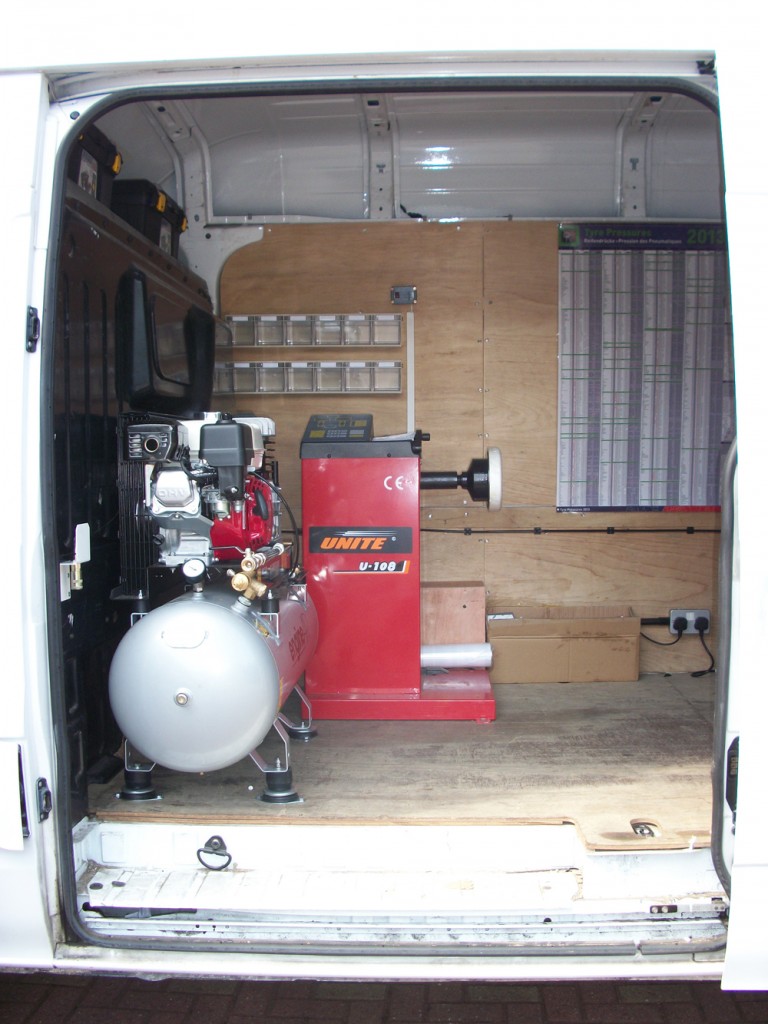 When asked what he likes most about the van Darren commented "The carefully thought out lay out of the van allows extra working space and a tidy storage space at the back of the van for jacks and tyres so we no longer have to tediously load them off and on again each time."
Lee Daykin, UK Sales Manager commented "I had been speaking with Darren for many weeks to come up with the best solution for his needs and we are both extremely happy with the outcome. We wish Darren the best of luck with his business and welcome him back anytime."