Tyre Bay Direct offer not only reliable, affordable and robust garage equipment but a full range of tyre consumables too meaning we are able to cater for all your tyre fitting needs from start to finish. Our range of products include the popular and regularly replenished consumable items such as balancing weights, repair materials and tubeless valves as well as an array of cleaning and protection products, tyre mounting aids, hand tools, air tools, floor jacks and much more.
We have a dedicated purchasing team who work hard to find the best value tyre consumables whilst not compromising on quality. Every product in our range is put through vigorous testing to ensure they of the highest standards before being distributed to the trade. Whilst price and value is extremely important to Tyre Bay Direct we also take quality very seriously. Our customers expect high quality products at affordable prices and we aim to live up to our reputation by working very closely with all of our manufacturers to ensure every product is produced to the highest standards. The manufacturer of our repair materials, HOPSON, are no exception.
The range of HOPSON repair materials have been designed to repair nearly every tyre on (or off) the road including small motorcycle tyres, passenger car tyres, truck tyres and agricultural earthmover tyres. With a variety of patches including universal, tube, radial, bias / cross ply and patch-plug combos, they offer robustness, reliability and of course great value. All HOPSON repair materials are manufactured using thick, flexible and heat resistant rubber, many of which include extra shock absorbing, cushioning gum and are twice as tough as the rubber they are repairing.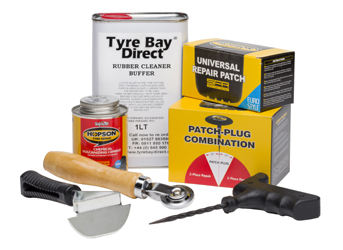 HOPSON tyre repair patches, patch-plug combination and repair solutions are designed to repair almost any tyre. These products are available in variety of shapes and sizes to be sure that you find the perfect fix for all your repair needs.