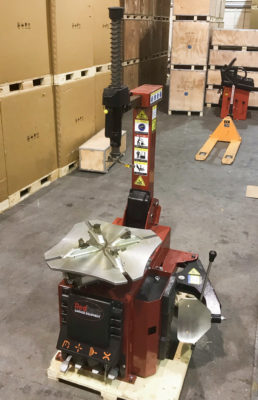 What better way to kick off 2019 than by stocking up on unbeatably priced consumables and finding out you've won a Fully Automatic Tyre Changing machine?
There aren't many better ways for your business we're guessing! That's why we are giving away a Brand New Redback RB221 Tyre Changer.
"How do I win this Tyre Changer?"
The best thing about this give away is that to enter you only have to order consumables from Tyre Bay Direct totalling £179 + VAT (which you're going to need anyway). Complete a qualifying order before the 28th February 2019 and you're in the draw!
Order £179 + VAT of consumables and you could win a BRAND NEW Tyre Changer!
The Small Print
This offer really is as simple as it seems! Just make sure you order over £179 worth of consumables excluding VAT before the 28th February 2019 and you'll be entered into the draw for the tyre changing machine. That's all you have to do!
A winner will be drawn LIVE ON OUR FACEBOOK PAGE at midday on the 1st March so be sure to follow our page now!
All thats left is to order you consumables and save!
Tyre Valves
Wheel Weights
Repair Materials
Not a customer?
If you don't already shop with us, 2019 is the ideal time to switch to Tyre Bay Direct for your consumable needs. Everyone is a winner with the saving we have across wheel weights, tyre valves, repair materials and more!
You've nothing to lose, only great saving to gain!
* Prize includes delivery to UK Mainland only. Qualifying overseas entries will be subject to a delivery charge.
** Machine includes 12 months parts warranty.