Tyre Bay Direct has long been associated with Unite tyre changer and wheel balancer equipment. Introduced in the mid-2000s, Unite tyre changers quickly gained popularity for their outstanding quality and unbelievably affordable price point.
Glowing online reviews only added to the reputation and demand for this product. By taking only the best from the Chinese equipment market and coupling it with specified European components and industry knowledge, Tyre Bay Direct created an outstanding and popular range of garage equipment.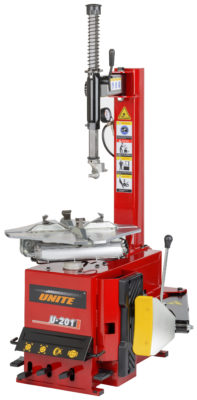 Just how good were Unite tyre changers? Well, with average sales of 150+ machines a month, for many years they'd be considered the first choice. One of the most popular models in the range was the Unite U201 Tyre changer, a semi-automatic machine with a 24" table which suited small workshops.
At the upper end of the scale, the Unite UP650 Tyre changer and Unite UP840 wheel balancer provided a comprehensive package for the medium size tyre shops. So why can you no longer find any Unite tyre changers for sale?
Say hello to Redback!
At Tyre Bay Direct, we are always striving to bring our customers the next 'best thing' and, through development, have now created the Redback brand.
Similar in many ways to Unite, Redback offers the same value and quality tyre changers, but now just that little bit better. As the only UK agents for US brand Atlas equipment, we also bring great American and Italian machinery to our customers.
Find out more about our Redback machines today and order yours online!
Some of our Redback Products:
No products were found matching your selection.
VIEW ALL TYRE CHANGERS VIEW ALL WHEEL BALANCERS