We have released an unrivalled parallel when it comes to tyre service equipment and maintenance with our brand new Knowledgebase.
Available automatically and exclusively to all our Unite tyre machinery customers this new section of the website has a landing area personalised to your equipment models and is automatically accessible from the moment your machinery is installed. The Knowledgebase lists the current equipment in your workshop with warranty status' and expiry reminders along with complete manuals, operating instructions and instructional videos for your chosen machine, meaning any information you require is always at your fingertips.
There is an exclusive selection of articles and updates about the latest development in the industry, new regulations and in-depth articles about some less know aspects of products such as the Uniflate Nitrogen Inflation Systems and 8CCD Wheel Alignment. The Knowledgebase also allows you to see frequently asked questions covering a large array of topics as well as giving you the option to ask your own questions.
Perhaps the centrepiece of the new customer experience is the parts identification and online ordering system. Every machine has an intricately detailed, interactive exploded diagram allowing users to visually see parts and components for easy identification. You can even request quotes for service visits, extended warranty or additional machinery through the interface.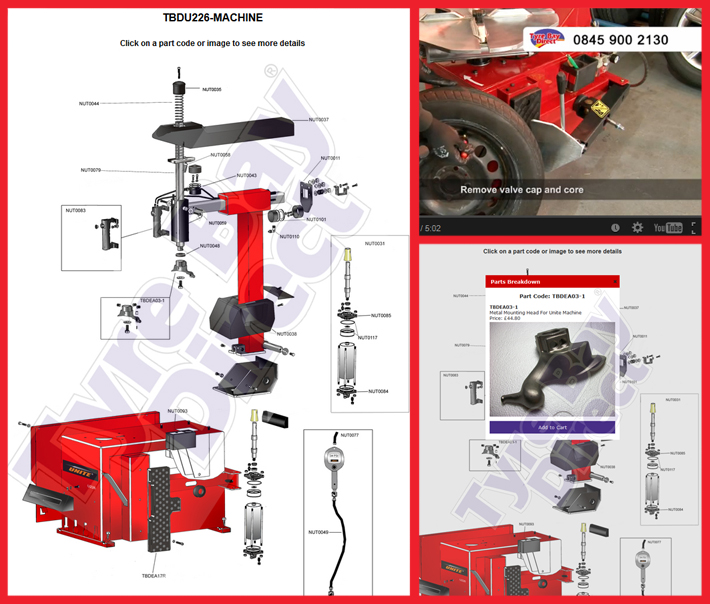 We already offer one of the best warranties around and as exclusive suppliers of Unite tyre equipment we have a full complement of spares readily available. We are aware that spares availability is a major concern when buying machinery and while some people are unlucky enough to have purchased from a company that doesn't offer this commitment or have to wait for weeks for a spare, even with some so called "premium branded" machinery, this platform demonstrates our commitment to availability and easy access should there be any issues.
Many customers were asking us for a low cost extended parts warranty for peace of mind after the initial 2 years.With spare parts easily available we have created the 'self-serve' warranty where customers can identify and order parts online. This is available for either a small annual fee covering the most common parts or as a pay per part service ordering as you need them.
With our massive online presence it seemed a logical step to provide you with this wealth of information and the ability to order parts either in or out of warranty directly through the site. The detail and the interactive functions with images means no more thumbing through pages of part numbers to find what you need.
The finished product is indeed impressive and ensures that anyone purchasing a Unite branded machine has the back up and support required should the unthinkable happen. Furthermore all manuals, serial number information and instructional videos are in one easy access yet secured personalised account for quick reference. We have always strived for excellent customer service and they believe that this is yet another step to cementing that reputation.