Cleaning isn't likely to be at the top of anyone's list of priorities, but keeping a clean and tidy workshop is necessary, not only for health and safety reasons but to present a professional image to your customers.
Here are our top 5 tips broken into 3 sections to keep your workshop clean:
Get the right products…
1. Dealing with each spillage as it happens means there is no build up of grime and dirt. Keep oil spills contained with these 20l Oil Vehicle Spill Kits.
2. Prevent slips by keeping the workshop floor clean and grease-free. This Workshop Floor Degreaser is perfect with its deep cleaning capability on concrete surfaces and helps to remove ingrained oil and grease.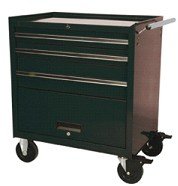 Everything has its place…
3. Invest in a proper storage set up. This 3-Drawer Rollaway Cabinet is perfect to make sure tools are stored away carefully and in the right place, and will make the workshop look organised and clutter-free. Knowing where everything is can also avoid time lost hunting for the right workshop tools!5
Get the frequency right..
4. Clean little and often! Create a cleaning rota to allow a small amount of time each day to keep on top of any mess. Wipe down equipment at the end of each day to prevent build up of dirt and grime.
5. Make sure you have all the cleaning supplies for your garage when you need them. Remember to restock garage cleaning supplies regularly, as not having the right products will mean the job does not get done.
It can be difficult to keep a clean workshop but remember, it doesn't have to all be done at once and even the lightest spring clean will make a huge difference in terms of output, workplace morale, hygiene and safety! 
Talk to the Tyre Bay Direct team today on 01527 883 580 to discuss the ongoing supply of cleaning equipment for your garage with great prices and incredible service. Talking to our team only stands to bring your garage great savings! You've nothing to lose, only plenty to gain.