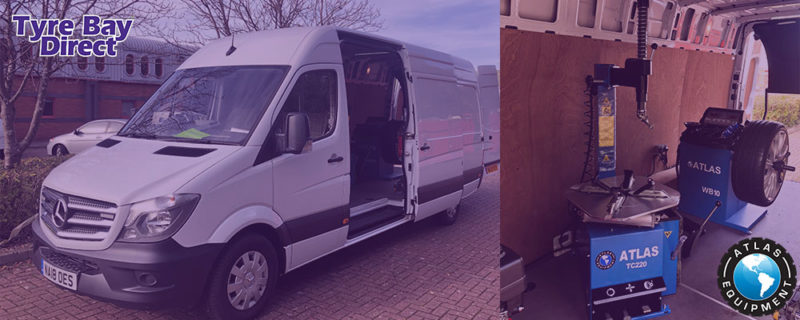 We're pleased to share with you one of our latest mobile tyre-fitting van projects, with nothing but the stock shell of a Mercedes Benz van to work with!
What goes into making a mobile tyre fitting van?
Starting in the cab, we have installed a couple of great essential features including the intelligent runlock system. This enables the van to continue running with the key removed and cab locked, allowing the fitter to utilise the machines in the rear. This is a great safety feature as it eliminates the risk of anything being stolen from inside, or the van itself being pinched.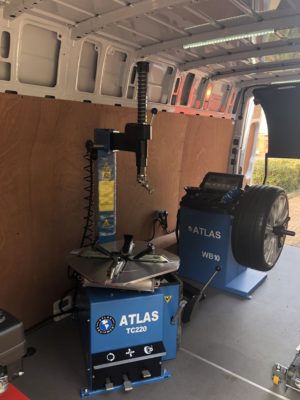 A voltage meter has also been added inside and strobe lights have been attached to the front grill. This provides great visibility of the van in low light conditions should the mobile fitter need to work in a potentially hazardous area. Spotlights have also been fitted to the side and rear doors for complete illumination of customers vehicles in low light and LED strips running the length of the interior ensure a well-lit work environment.
Hidden underneath the passenger seat lies the wiring, split charger and independent battery, making fantastic use of a tight and compact space which would otherwise be left empty. The time has also been taken to tidy up any of the originally loose cabling visible on the van.
The rear of the van has been fitted with a 3000w Inverter and Honda GX160 motor running a SIP compressor. Tyre Bay Direct have supplied a feature rich Atlas TC220 tyre changer with jaws to cover rim sizes as big as 24". The tyre fitting van also includes a Manual Data Entry
WB10 wheel balancer.
The additional 3 pin sockets are perfect for use with any additional hand tools needed and a trolly jack has also been provided. Even with all this machinery, there is still plenty of space to manoeuvre even the largest tyres around the van and plenty of space for storage at the back.
Tyre Bay Direct is proud to have worked in partnership with VechicleFit Ltd on this project. Do you need a mobile solution to tyre fitting? then get in touch on 01527 883 580 to discuss in more detail.