Many of us are not contemplating a new investment in terms of the return it will bring, only considering the cost required to offer the service.
Relating this to balancing, each garage will have their own thoughts on the subject, as everyone's balancing equipment requirements are different – as is the potential revenue.
How long before your wheel balancer makes you money?
Knowing the answer to this means knowing how long it will take to earn a return on your investment!
Take this basic sum:
Cost of balancer / (Cost charged per balance*Average number of balances completed a week) = Number of weeks to pay off your balancer
From there it's all profit! If you are starting out from scratch, projecting realistic numbers could help you adjust your charge & ensure your business is sustainable.
Every time you complete a tyre fitting job with a tyre changer, a wheel balancer is required to perform the balancing service for that complete customer service so you can take the number of wheels you expect to fit as the average number of balances completed a week.
Ensure you are upselling balancing correctly to the customer as an essential service for safe driving as part of all tyre fitting.
Let's put that into perspective…
If you are performing at least one balancing job per day and say you purchase a mid-range wheel balancer from our Tyre Bay Direct product range e.g. the Atlas WB49 Wheel Balancer at £1,195 + VAT, it will only take you ONE MONTH for every job to then become pure profit!
WOW.
Our range of Wheel Balancers – discover the perfect tyre changing companion!
You could work the return out for the week, month or even days based on the frequency you fit and balance tyres.
So, if you are holding back on purchasing a brand-new wheel balancer for your garage services because you are unsure of the benefit, then don't worry, we have a wheel balancer for every budget in mind & are happy to calculate the return on investment with you!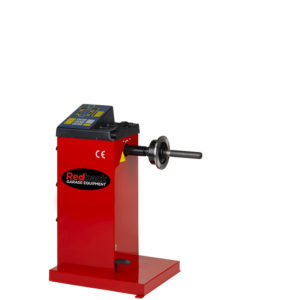 £

774.00 incl VAT
£

645.00 excl VAT
In Stock
The result!
Your garage's tyre fitting services are tangible and bringing in enough business easily helps calculate the return your equipment is giving you. This is an approach we've seen make many a garage successful!
To discover even more equipment models, browse through our entire wheel balancer collection online today.
For more product information, contact us online now or call our equipment specialist team on 01527 883580.