Luxury Balancing for Minimal Effort…
Luxury features are included as standard with the WB49, such as Split-Weight Function for discreetly locating the weights behind the spokes, and an automatic LED light to illuminate the inside of the rim when applying the weights.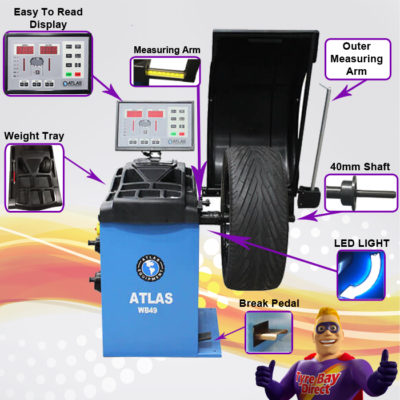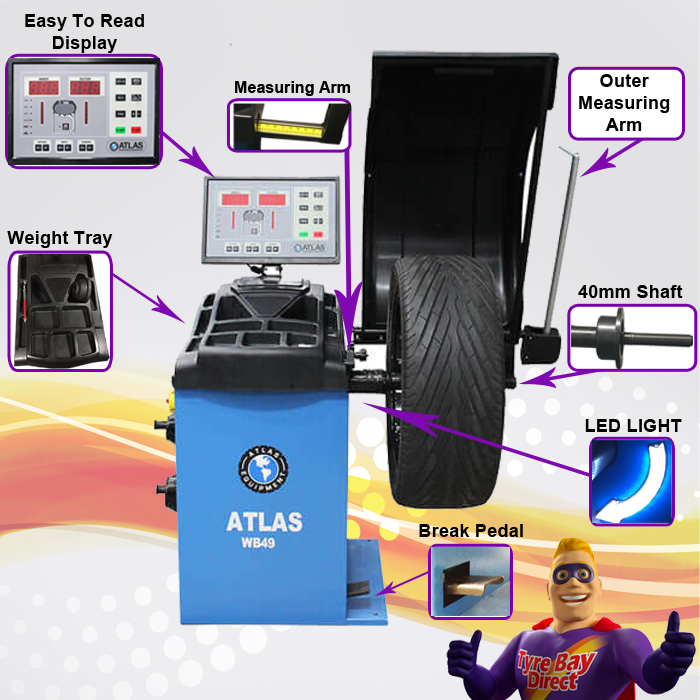 Features:
Higher, easy to read display
Large weight tray
Automatic positioning where to apply weights.
Automatic and pedal operated brake.
Automatic start/stop when hood is lowered/raised.
Static and dynamic balancing modes.
Rapid optimization (OPT)
Self-diagnosis
Self-calibration
Exceptional stability in reading the unbalance between planes.
Display in grams or ounces, in mm or inches.
No anchor-down installation needed.
Outer measuring arm that automatically enters rim width.
Shipping Weight: 390 LBS.
Finance details:
*Weekly price reflects 5-year finance option on the cheapest product of any variations. The total value of the purchase must be over £1,000 (ex.VAT) to qualify for finance. Call today on 01527 883 580 to begin your application.
CALL NOW TO APPLY | 01527 883 580
APPLY FOR FINANCE ONLINE
Atlas Equipment Warranty Options
We are pleased to offer all Atlas Equipment customers a standard 12 months parts and labour warranty inclusive of their purchase. This comes as standard and no action is required.
Warranty Extension
Many choose Atlas Equipment because of the option to extend the warranty for an additional 24 months at a cost of only £499. This is included as part of the purchase cost and can be paid for upfront or financed with the machine.
This brings you peace of mind for the next two years that your equipment is covered and your business is not at threat from any long term lost revenue due to machine issues.
To find out more about Atlas Equipment call our experts now on 01527 883 580. Our team will be happy to help find the right product and warranty combination for you.