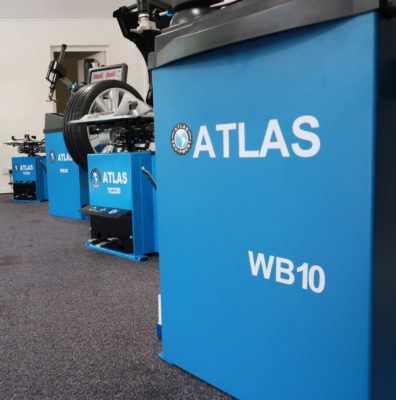 As a leading garage equipment distributor, we are always looking for the best products to supply our customers. As part of our move to strengthen this offering, we are the official and exclusive UK agent of ATLAS automotive repair. Tyre Bay Direct is pioneering a new range of tyre machine packages that offer great savings and feature the latest technologies.
Our Managing Director, Sally Wright says:
"It's great to have widened the range of machines we provide with the latest Atlas and Atlas Platinum equipment. We now truly cover the entire range of specifications we've seen requested by the market and top it off with an aftersales service that is second to none."
About Atlas Equipment
Atlas equipment was launched 35 years ago in the USA by Greg Smith. Quickly the Atlas Tyre equipment brand grew, and regional distribution, of course, lead to a nationally recognised brand throughout the states. Today, Greg Smith Equipment has 11 locations across the US with a further 3 in Canada. Tyre Bay Direct have been chosen to represent the brand in the UK and Europe. We are pleased to be able to offer such a powerful and high-quality brand to our market.
The range of equipment available ensures a machine to suit every budget. This includes the Atlas TC220 Tyre changer with it's space saving swing arm design and the Atlas Platinum 26" fully automatic tyre changer. There is now a full range of equipment for all requirements on Tyre Bay Direct. This includes wheel balancing machines with solutions for all budget levels.
Platinum Level Tyre Machines
If you seek the very best in Tyre changing equipment, then look no further than the Platinum PTC 520 Leverless tyre changer with centre post clamping and Leverless operation. Coupled with the Platinum PWB55 wheel balancer, there is no comparison in the market place today at this price point. What's more, we are offering extended warranties on the entire Atlas and Atlas platinum range.
Atlas Tyre machinery, we believe, is the best pound for pound garage equipment out there. Check it out for yourself below!
Shop the Atlas Platinum Range Shop the Atlas Equipment Range