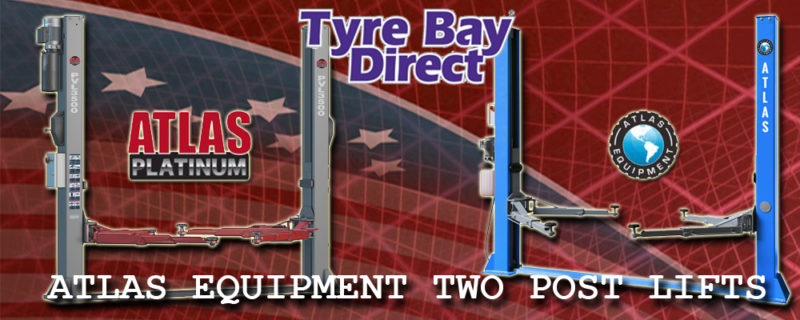 Atlas Equipment already have a reputation that precede them in the states and the same is fast becoming true in the UK. Not only can their tyre machine packages offer epic tyre fitting service whether in garage or mobile, but their lifts are serious contenders as well!
In the spirit of continuing innovation, the American Tyre Fitting Supplier have produced the ideal companion for your existing machines that will aid in lifting your workshop revenue.
The Two Post Vehicle Lifts
Tyre Bay Direct current offer two vehicle lift from the Atlas range, the most popular of which comes from their Platinum range. These are 2 post lifts that will equip your garage with ongoing lifting power at affordable prices. Check out the 2 lifts currently on offer here:
With a low footprint (wasting little space in your garage) these 2 post car lifts boast the same lifting performance as many 4 post lifts. However they take up far less space. With the right layout you can fit multiple lifts in even the smallest workshops, instantly increasing the amount of work you can complete (and money you can make).
Looking to open a garage?
Starting up your own garage from scratch? A two post lift is likely to be one of your first purchases but you may be able to better equip your new business then you first thought possible. We currently have premium tyre fitting equipment from Atlas Platinum including the Atlas Platinum Professional Tyre Equipment Package or the Atlas Platinum Specialist Tyre Equipment Package. Starting from just £40.83 per week, you could grab our most technologically advanced equipment with 0% finance across two years right now!
Do you need any advice on our Atlas Equipment ranges? Call now and speak to Ant on 01527 883580 to discuss in more detail! What he can't tell you about tyre equipment isn't worth knowing.