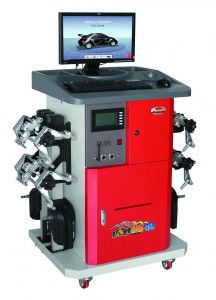 Tyre Bay Direct have introduced a new range of Computerised wheel balancing equipment. The TBDWAG58 is the flagship system in the range offering state of the art alignment with full colour print out for wheel ranges 11″ – 25″.
Standard with the machine is the cabinet and mainframe computer with 17″ LCD screen, colour printer and Windows 7 operating platform. The system offers multi lingual audio guidance as well as a stunning 3D instructional training video.
The 4 sensors, all 8 CCD have touch key interface with Lithium batteries offering extended capacity and battery life. Also included are the 4 universal self centering clamps with the range of 11″-25″, mechanical turn plates, steering wheel lock and brake depressor.
Some of the other technical features of the system include;
New generation wireless communication
Dual wired and wireless control option
Data Freeze program to ensure no data loss
Lift calibration and compensation
Data of over 20,000 vehicles through Auto Data UK data base
Self diagnostic and repair
Black Box recorder
Work efficiency management program.
These systems are being offered at a special introductory price for a certain time and are available on line or through our main sales centre.