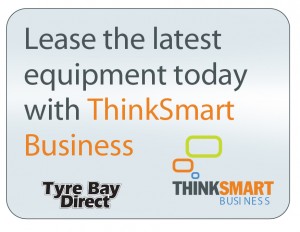 Tyre Bay Direct has teamed up with Think Smart to offer a revolution in Tyre Equipment leasing. Rent Smart has been available through Curry's and Dixons for many years but Tyre Bay Direct are the first people to bring it into the Garage Equipment market.
Rent Smart gives Tyre Bay Directs customers the ability to lease any capital equipment they choose from £250 to £5000 with a simple 5 minute application. "It's the next generation of leasing" explains Leigh Stote, Sales Director at Tyre Bay Direct. "In the past, our customers faced a long list of questions and paperwork as well as having to provide bank statements and all sorts of guarantees. This led to delays in receiving equipment in effect penalising those people who wanted to use the tax effective option of leasing equipment. Rent Smart is the perfect solution to that problem."
With the new Rent Smart product, people can apply for leasing within minutes either over the phone, face to face or through a fully integrated on line application. The decision is instant and in effect customers can now choose to lease the equipment and receive delivery in the same time scales as if they choose to pay cash.
Rent Smart seems to offer all the tax advantages of leasing but with none of the hassle and has proved very popular with Tyre Bay Directs customers already. "Our customers are really taking to this option of purchasing equipment." says Leigh Stote. "Tyre Bay Direct is once again proud to be at the forefront of introducing new concepts and systems to serve the garage equipment market in the best possible way."
To find out more about Rent Smart simply visit Tyre Bay Directs website or call for more details.