TPMS Diagnostic Tool Suppliers
Our TPMS Diagnostic Tool range provides an essential piece of equipment for any workshop supplying TPMS services, working along side other TPMS products. Due to all of these tools being competent of reading any TPMS sensor, trying to find the correct TPMS Diagnostic Tool can be daunting especially when trying to balance your budget and need of OBDII Relearn Procedure capabilities. So let us help you find the ideal device suitable for your workshops needs…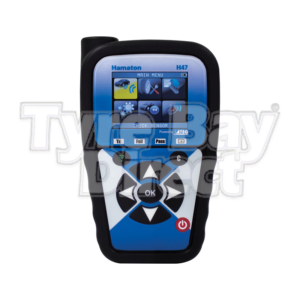 £

350.00 (

£

420.00 inc VAT )
In Stock
---
TPMS Diagnostic Tool Comparison
H36
£279.12
low cost robust and easy to use
starter diagnostic tool
FUNCTIONALITY
Clone sensors (Hamaton/Tyresure only)
Program/Create ID (Hamaton/Tyresure only)
Directory of replacement TPMS sensor part number (Hamaton/Tyresure/OE)
Manual relearn procedure information
Indirect relearn system information
On-tool help centre & training centre
US/Europe/Asian vehicle coverage
Tests remote key entry (RKE)
HARDWARE
Wi-Fi capable for PC synchronisation
VIN barcode scanner to select US Make, Model, Year
ACCESSORIES
Upgrade to all aftermarket sensors
Database subscription
(5 years*)
ADDITIONAL INFORMATION
Dimensions
16.5 x 9.5 x 3.8 cm
H46
£384.12
robust and fully upgradable
mid-range TPMS diagnostic tool
FUNCTIONALITY
Clone sensors (Hamaton/Tyresure only)
Program/Create ID (Hamaton/Tyresure only)
Directory of replacement TPMS sensor part number (Hamaton/Tyresure/OE)
Manual relearn procedure information
Indirect relearn system information
On-tool help centre & training centre
OBD relearn and module
(requires upgrade)
US/Europe/Asian vehicle coverage
Tests remote key entry (RKE)
HARDWARE
Wi-Fi capable for PC synchronisation
VIN barcode scanner to select US Make, Model, Year
ACCESSORIES
Upgrade to all aftermarket sensors
Database subscription
(5 years*)
ADDITIONAL INFORMATION
Dimensions
22.0 x 13.0 x 3.7 cm
VT56 OBDII
£875.00
fully update-able universal TPMS
activation and scan tool
FUNCTIONALITY
Clone sensors
(all makes)
Program/Create ID
(all makes)
Directory of replacement TPMS sensor part number
(all makes)
Manual relearn procedure information
Indirect relearn system information
On-tool help centre & training centre
OBD relearn and module
(as standard)
US/Europe/Asian vehicle coverage
Tests remote key entry (RKE)
HARDWARE
Wi-Fi capable for PC synchronisation
VIN barcode scanner to select US Make, Model, Year
ACCESSORIES
Compatible with all aftermarket sensors
Database subscription
(1st year free)
ADDITIONAL INFORMATION
Dimensions
22.0 x 13.0 x 3.7 cm
For the full comparison of features
download our guide here
. If you have a TPMS Diagnostic Tool already and require the ability to program all major aftermarket programmable TPMS sensors (such as the EZ sensor, Intellisens, Sens.it) you can use the all sensor upgrade* to achieve this.
SHOP TPMS TOOL ALL SENSOR UPGRADES
*Free updates are not available after upgrade to all sensors.