Lite, Efficient, Hand Spin Balancing the Atlas way!
The Atlas WB Lite is a high-quality manual input, hand spin wheel balancer capable of balancing up to 26″ wheels.
This is the latest model from Atlas Equipment and features static, steel and ALU balancing modes. We've also included a motorcycle balancing mode, enabling you to offer a fuller range of tyre fitting services.
The model also features a brake pedal to help ensure accurate wheel weight placement every time.
Detachable wheels make for easy moving around the workshop of this light-weight workhorse.
Economy footprint, excellent in a tight spot!
With no lowering hood, the Atlas WB Lite manual wheel balancer is an ideal choice for those with limited working space. Whether you're looking to increase your workshops output or kitting out a mobile van installation, the Atlas WB Lite brings big brand build quality and usability to a small package.
Small on space, not on features
The WB Lite may only have a small footprint but Atlas has not comprised on the features of this Manual data input wheel balancer.
Features:
Suitable for mobile tyre fitting equipment service
AC power
AC/DC adaptor supplied as standard
Static and dynamic balancing modes
Four standard ALU balancing modes
Motorcycle balancing mode
Rapid optimization (OPT)
Self-diagnosis and self-calibration
Unit display in gram/ounce or mm/inch
Pedal brake for application of weight
Accessories:
You'll also receive a number of accessories to help you get the most out of your new balancer including a set of 4 balancing cones, quick-release locking wing nut for fast securing and removal, measuring callipers, universal weight pliers and 100g of calibration weight.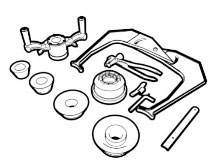 Optional Accessories:

For more information contact us today.
*We can install your tyre machine or balancer for just £150, and any additional machines for just £25 extra! Call now on 01527 883 580 to book your installation.
Price includes delivery as well as 12 Months Parts and labour.
Finance details:
*Weekly price reflects 5-year finance option. The total value of the purchase must be over £1,000 (ex.VAT) to qualify for finance. Call today on 01527 883 580 to begin your application.
CALL NOW TO APPLY | 01527 883 580
APPLY FOR FINANCE ONLINE
Atlas Equipment Warranty Options
We are pleased to offer all Atlas Equipment customers a standard 12 months parts and labour warranty inclusive of their purchase. This comes as standard and no action is required.
Warranty Extension
Many choose Atlas Equipment because of the option to extend the warranty for an additional 24 months at a cost of only £499. This is included as part of the purchase cost and can be paid for upfront or financed with the machine.
This brings you peace of mind for the next two years that your equipment is covered and your business is not at threat from any long term lost revenue due to machine issues.
To find out more about Atlas Equipment call our experts now on 01527 883 580. Our team will be happy to help find the right product and warranty combination for you.