About TreadReaderTM
The Hand Held scanner is easy to use and eliminates the errors associated with manual depth gauges. With a pre-configured tablet included in the price, the colour-coded 3D scans accurately indicate tread depth and can reveal badly worn or unevenly worn tyres, symptomatic of under inflation, wheel misalignment or worn suspension.
It has been proven to uplift immediate and scheduled tyre replacements by 7%! Purchase your TreadReader today and boost your tyre sales now by providing a better service to your customers. 
See the TreadReaderTM in action:
Why chooseTreadReaderTM?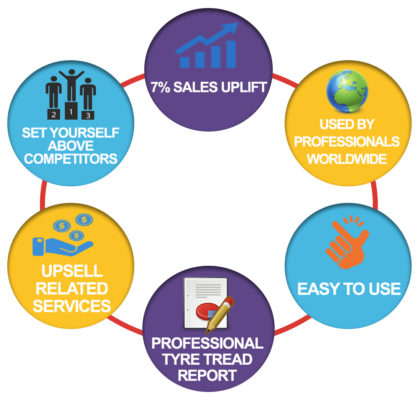 The scanner is operated by sliding the device from one edge of a tyre across the tread face. This motion produces an accurate scan even on wet or dirty tyres. The calculated data can be shown to the vehicle owner using the TreadReaderTM app or imported into any workshop data management system. This enables immediate or scheduled tyre replacements. TreadReader helps increases tyre and service revenues and improves customer retention from the moment you start using it.
Simple to use
Price includes tablet
Generates 3-D image to easily show customers their tyre condition
Increased level of customer service and satisfaction
Technology designed to save you time and money
TreadReaderTM with Pre Configured Tablet Included
The product comes complete with an android tablet which is pre-configured before delivery. This means you are ready to go straight out of the box.
An operator report is instantly generated, showing vehicle identification, 3D tyre scans with colour-coded tread warning and error alarms for every axle and tyre position. The TreadReaderTM Hand Held scanner is pre-configured for you and has simple steps to connect the mobile device and scanner. This can be done over WiFi within a local network or using a point-to-point connection for field use. You can also download the TreadReaderTM app on your mobile device.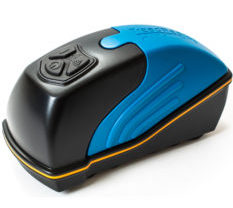 TreadReaderTM Tyre Measurement Technology
The patented TreadReaderTM tyre measurement technology creates a detailed 3D scan of each tyre, constructed from over 300,000 measurement points, with an accuracy of < 0.2mm. The app is free to download and there is no contract or charge for upgrades to the software.
Why we love the TreadReader:
This is a device that offers returns in so many ways for your garage. We took our team out to test it for our selves and this is just some of the feedback they gave on it:
Bespoke Reports Instantly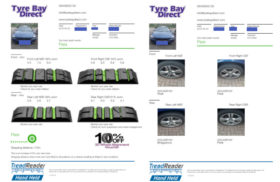 "The ability to produce on the spot bespoke reports with your garages branding is incredible and the reports contain such a great level of detail. I really appreciate the insight into my tyres condition and will be taking action now I know the health of each wheel."
Add a Voucher for Future Purchase
"Having previously worked in a garage I can't believe the ease with which the device helps to upsell tyres when needed. Not only that but if your customer's tyres are passable you can tag on a voucher for redemption against new tyres. Simple yet a great way to build a relationship with customers!"
More than just Tread Depth
"I was stunned by the range of data this thing chuck's out. As well as tread depth across the entire wheel the device can pick up metrics such as tyre pressure and wheel alignment. This is a powerful report to provide your customers within minutes after pulling up. You can even take it out to their car. This device is completely portable so you're not locked in one place."
Information your Customers Understand
"This thing can give your customers a practical example of how their tyre condition is currently impacting their stopping distance. I don't believe in scare tactics but this is information people deserve to see about their car and how it could be dangerous to others. "
Easy for all Your Team
"I picked up on how to use the TreadReader in minutes. It is easily operated by one person! "
Don't forget your TreadReader comes with a pre-configured tablet included in the price, which can also be used in your business for email, ordering on Tyre Bay Direct and other workshop activities!