What else is included in the mobile tyre-fitting package?
We've tested this package, added in the latest equipment from the Atlas range & asked tyre fitters for feedback to ensure it contains everything you need for an easy & efficient life on the road. Here's a breakdown of the Atlas Tyre Fitting Package contents: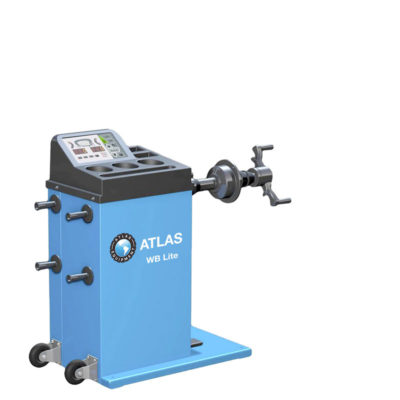 Atlas WB Lite Hand Spin Wheel Balancer [Manual Data Input]
Built on the Atlas Equipment foundations of strength, efficiency and simplicity in operation, the WB Lite is a high-quality manual input hand spin wheel balancer capable of balancing up to 26″ wheels. Unbeatable build quality, unbelievable value.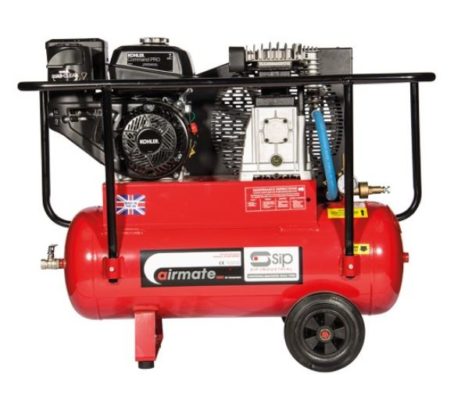 SIP Airmate Industrial Super ISKP7/150 Compressor – 7hp Kohler Engine – Pull Start
The SIP ISKP7/150-ES Super is an industrial petrol compressor fitted with a powerful Kohler® engine and a Quad Clean cyclonic air cleaner which potentially increases service life.
Durofix 20V 1/2 inch Brushless Impact Wrench Kit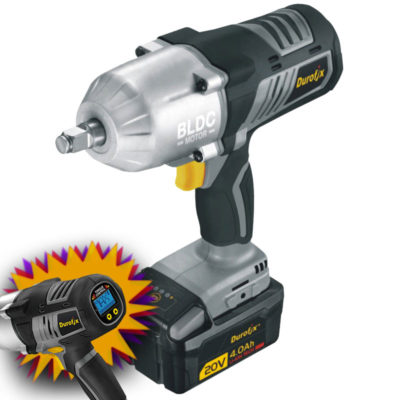 Designed to make an Impact in your Garage + 3 years warranty on tool & batteries! With a Patented Electronic Torque Clutch (ETC) featuring a backlit LCD display, this industrial-grade impact wrench accurately performs tasks from 80 to 480 Nm in 6 digitally preset modes.
Capable of up to 1098 Nm in maximum reverse torque and with a 1654 Nm maximum breakaway torque, this impact wrench can achieve a whopping 2,000 rpm. This Durofix Tyre Buster packs a serious punch with a durable metal gearbox housing. It can take the toughest knocks that your garage can throw at it.
Don't settle for "hand-tight". Don't risk a quick splash from an impact wrench. Get it right every time with the Durofix 20V 1/2 inch Impact Wrench with patented Electronic Torque Clutch (ETC)!
Essential Consumables Pack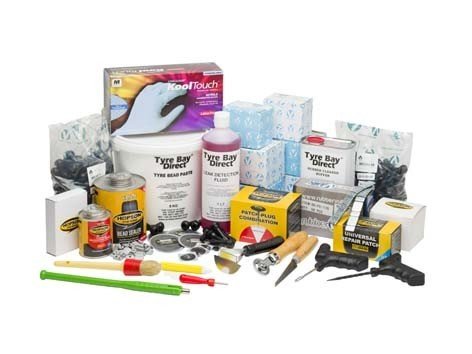 Everything you need to start fitting tyres safely on the road. This is one of our best ever & most comprehensive consumables pack. We're confident you'll be so happy with its contents that you'll never order consumables from anywhere else!
Click here to see pack contents.
You'll also receive:
3 Tonne Trolley Jack
Sterling Pro Power Q Quasi Sine Wave Inverter 12V 1800W – Call the team for more info on 01527 883 580.
Choosing your Tyre Changer:
Atlas TC220 Tyre Changer 24" with Swing Arm [Optional 3 Way Help Arm]
The TC220 Swing Arm Atlas Tyre Changer offers must-have features in an ergonomic package & at an unbeatable price.
Covering rim sizes from as little as 10" up to 24",  you can now add a 3 Way Help Arm for an additional £300. By doing so you'll take this machine up a level, ready to work with run-flats.
Atlas TC320 Tyre Changer 24″ Fully Automatic with Assist Arm
Introducing the Atlas TC320 Tyre Changer.
Robust and easy to use, it will reduce the effort and force needed to change all tyres, including run-flat tyres, saving you money, time and effort.
Additional Information
*Installation is not possible in all areas & geographical restrictions will apply.
Delivery included in price.